Get Help Restoring Your Right to Vote for Free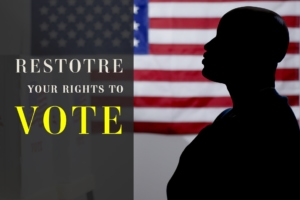 For the month of July, the Law Office of Chris Van Vechten is offering FREE assistance to convicted felons in Washington State who are interested in restoring their right to vote.  While restoration of voting rights does not normally require an attorney, Chris is willing to lend assistance to those who have worked to regain their voice, along with their freedom, and want some non-partisan assistance.
Call 253-666-8987 to set up a free appointment for you voting rights restoration.
Alternatively, For Voting Rights Restoration You can Contact on:
The Washington State Republicans who can be reached at 425-460-0570
The Law Office of Chris Van Vechten is ready and able to assist you in taking yet another step in finally putting this all behind you. Contact us for a free case evaluation.