Our 15-Year-Old Was Framed for a School Shooting
Chris Van Vechten Proved it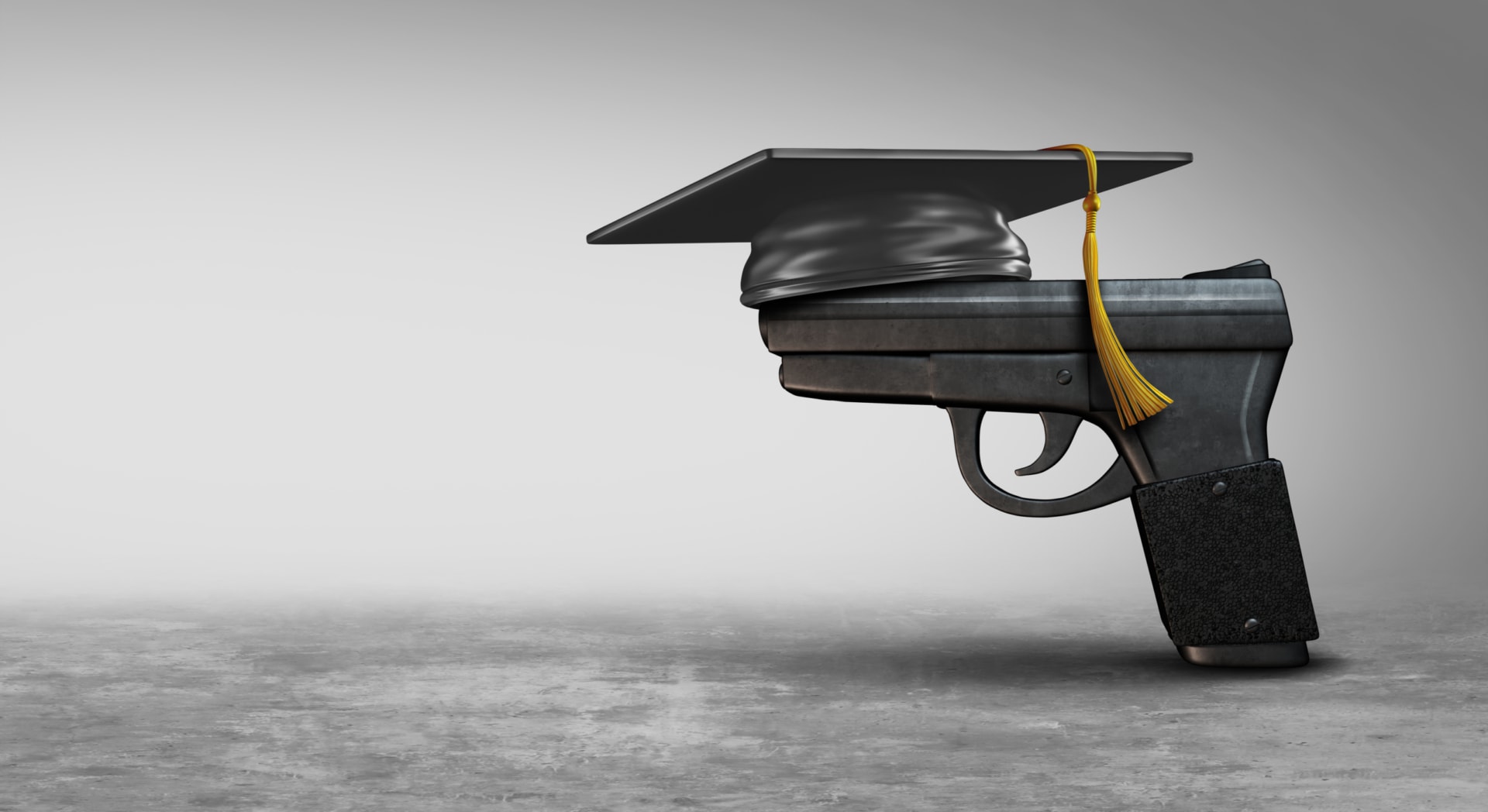 Armed teachers social issue as a gun wearing a graduation mortarboard as a symbol for security in schools armed with guns as a 3D illustration.[/caption]Armed teachers social issue as a gun wearing a graduation mortarboard as a symbol for security in schools armed with guns as a 3D illustration.[/caption]Recently, the Law Office of Chris Van Vechten celebrated its biggest win to date: proving that a 15-year-old defendant accused of bringing a gun to Shelton High School in what the media and local politicians described as a foiled school shooting, was in fact framed by a classmate who initially was hailed as the hero who saved the day.  The story was published in the Olympian and is republished in relevant part below:
A pair of Shelton High School students have been cleared of criminal charges after they were accused of bringing a loaded handgun to school in December. In a twist of events, another student who was hailed as a hero for notifying school officials about the gun has since been arrested on burglary charges — and his possible link to the gun is under investigation. The first two students were arrested Dec. 8 following a tip that one of them had a small loaded handgun in a backpack. The student tipster said he had gotten a glimpse of the grooved handle of a handgun in the backpack, then left the classroom and dialed 911 in the hallway…. In December, the Mason County Journal reported that the Shelton Police Department, Shelton School District and Shelton High School staff praised the student tipster for "doing the right thing" by reporting the gun. However, the 15-year-old student with the backpack claimed the gun was planted on him, according to court documents. He had been charged with unlawful possession of a firearm and bringing a deadly weapon to school. The case took a detour when the 17-year-old student tipster was arrested about a week later, after a witness had reported seeing him shortly before a Mason County home was burglarized. According to court documents, the suspect confessed to stealing a .357 revolver from the home. During the investigation, he handed over a box of stolen weapons and survival supplies. The items included weapons that had been recently stolen from a game warden's personal vehicle. In January, the suspect was interviewed by the defense counsel for one of the originally accused students. The suspect said the teen with the backpack had bullied him in the eighth grade, according to court documents. The suspect also said that he comes from a family with a lot of guns and that he has dreams of working in law enforcement or the military.The same suspect was the subject of a missing person report in August 2015. According to the report by the Mason County Sheriff's Office, the teen was having "suicidal thoughts and has kept a journal taking about killing himself." Mason County Deputy Prosecutor Eric Sigmar confirmed that charges were dismissed this month for the first two juveniles and that the current case with the student tipster is under investigation.Sigmar said the student tipster faces allegations of first-degree burglary, unlawful possession of a firearm, and third-degree theft. He was arraigned March 22 in juvenile court. Tacoma-based attorney Chris Van Vechten said his 15-year-old client spent six days in jail and was subsequently placed under house arrest. Despite the juvenile's innocence, there was pressure from prosecutors for him to plead guilty to lesser charges."I'm incredibly proud of how he held out. There were times he wanted to plea guilty just to get it over with." Van Vechten said of his client. "If you put people in a situation like this, you will confess to crimes you haven't committed." Van Vechten said the legal victory goes beyond clearing his client's name and showing that he was framed. "Not only did we prove our client's innocence, we possibly saved this community from a school shooting," Van Vechten told The Olympian. "We do not blame the prosecutor's office at all for any of this, and commend their courage to correct the error."
Needless to say, we are thrilled by the outcome in this case.  It's an example of what can happen when a dedicated defense attorney and a prosecutor committed to justice take a serious look at the claims of the accused (something too many lawyers fail to do).  At the end of the day, it comes down to having an attorney brave enough to stand by his client.